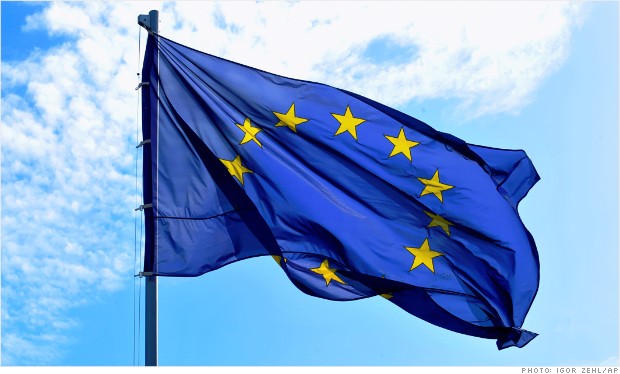 Disclaimer LIBOR Warning: Neither BBA Enterprises Limited, nor the BBA LIBOR Contributor Banks, nor Reuters, can be held liable for any irregularity or inaccuracy of BBA LIBOR. Disclaimer . Morningstar: 2013 Morningstar, Inc. All Rights Reserved. Disclaimer The Dow Jones IndexesSM are proprietary to and distributed by Dow Jones & Company, Inc. and have been licensed for use. All content of the Dow Jones IndexesSM 2013 is proprietary to Dow Jones & Company, Inc. Chicago Mercantile Association. The market data is the property of Chicago Mercantile Exchange Inc. and its licensors. All rights reserved. FactSet Research Systems Inc. 2013. All rights reserved.
ICE's client clearing solution for European CDS covers 47 European index and 121 corporate single name CDS instruments. The following clearing members and clients have cleared CDS instruments through ICE Clear Europe: Clearing Members: Credit Suisse Securities (Europe) Limited Goldman Sachs International Liontrust Investment Partners LLP Lombard Odier Investment Managers Paul Swann, President, ICE Clear Europe, said: "ICE Clear Europe is pleased to extend its proven CDS clearing solution and risk management expertise to clients across Europe and is appreciative of the extensive commitment and efforts of the buy-side and dealer communities." "The client clearing launch yesterday complements ICE's European CDS clearing business for the dealer community which launched in 2009 and which has cleared 13 trillion gross notional value since inception," added Swann. "BlueBay is delighted to be one of the first cohort of firms to be clearing CDS at ICE Clear Europe. The introduction of ICE's European client clearing solution for CDS will help reduce systemic risk and familiarise clients with central clearing ahead of the implementation stage of regulatory reform in Europe. ICE's portfolio margining for index and single name CDS is a welcome initiative, providing important margin efficiencies for participants," said Spencer Woodward, Partner and Co Head of Operations, BlueBay Asset Management LLP. "As the regulatory landscape evolves to reduce systemic risk, ECM Asset Management is pleased to have reached an important milestone with regards to clearing European credit default swaps. There has been a large concentrated effort to ensure ECM keeps abreast of regulatory developments which will benefit our clients over the long-term, particularly, when clearing becomes a mandatory requirement in Europe," said Andy Li, Portfolio Manager, ECM Asset Management. "Goldman Sachs is committed to working with our clients and ICE to provide access to a robust, scalable CDS clearing solution which will help market participants complete an important step towards implementing European regulatory reform requirements. We are pleased to be one of the first day participants and to be launching with Liontrust Investment Partners LLP, and look forward to continuing to partner with the industry," said Stuart Connolly, Goldman Sachs International. "Credit Suisse welcomes the expansion of OTC clearing in Europe. The ICE Clear Europe clearing platform offers our clients additional choice for clearing OTC products, which is especially important given the impending introduction of mandatory clearing requirements, and we're very pleased, therefore, to have cleared one of the first customer CDS trades through ICE Clear Europe," said Alex Lenhart, European Head of Prime Services Listed Derivatives, OTC Clearing and FXPB Credit Suisse Securities (Europe) Limited. "Citi is very pleased to have partnered with Lombard Odier Investment Managers today in clearing some of the first client iTraxx positions at ICE Clear Europe. Citi is dedicated to offering the latest in OTC clearing solutions to our clients, and we look forward to continuing to work with ICE as mandatory clearing is rolled out in Europe," said Silas Findley, Managing Director, Head of OTC Clearing for Europe, Middle East, and Africa at Citi. "J.P. Morgan is pleased to be one of the first clearing members to complete a client cleared trade on ICE Clear Europe's CDS platform. This is a significant step forward for providing access to client clearing of credit default swaps in the European Market and a template as we build towards mandatory clearing under EMIR," said Hester Serafini, global co-head of OTC Clearing at J.P.
Europe's power markets set to link up in search for best price
Because the markets used to be isolated, the lack of links between neighbouring countries makes it difficult to tackle situations of over or undersupply, which if properly handled, could lead to lower energy prices for industry. Fifteen national markets will from November 26 be able to use interconnectors across borders more effectively once so-called market coupling starts in the North-Western Europe (NWE) market region. It will allow traders to buy and sell available power capacity more easily across borders and according to supply and demand pricing signals. "The harmonisation of trading rules is one of the core tasks for the creation of an efficient pan-European power market," said Jean-Francois Conil-Lacoste, chairman of Paris-based EPEX Spot, one of four exchanges in the project. Norwegian grid firm Statnett issued figures showing NWE will account for 2,300 terawatt hours (TWh) per year compared with total European consumption of around 3,200 TWh. The NWE initiative was originally made up of France, Germany/Austria and the Benelux countries (Belgium, Netherlands, Luxembourg), but has been widened to Britain, the Nordic countries (Denmark, Sweden, Norway and Finland), the Baltics (Lithuania, Latvia and Estonia), as well as Poland. Apart from power exchanges, the move also includes 13 transmission system operators (TSOs) and their cross border power links, working together by agreeing a central formula to combine trading and the transport of electricity. While much of continental Europe is set to benefit broadly from the move, analysts say Britain – which is linked to the Netherlands and France by cable – stands less to gain. "Price differentials will likely remain in place because Britain is quite isolated and there is little scope to fill the cables even more," said Peter Osbaldstone, analyst at energy research and consultancy Wood Mackenzie. British wholesale power prices are 5-10 euros per megawatt hour (MWh) above those in the Netherlands because of the UK's higher exposure to expensive gas generation and limited interconnector capacity. PUZZLE COMES TOGETHER Market coupling mandates that capacities are used efficiently so that supply and demand fundamentals can rule across different national power markets, enabling traders to work under a joint set of rules. "Market participants trading on a power exchange will… benefit from broader offer and demand across borders," said Wolfram Vogel, spokesman for EPEX Spot. This means that exchange prices emerging from the process will see a higher price convergence across Europe, making the market more efficient and liquid, and reducing costs for industries operating across Europe. Market participants say other benefits include greater supply security through access to neighbouring markets, increased cable operator revenues, as well as incentives for financial institutions to participate in power trading.